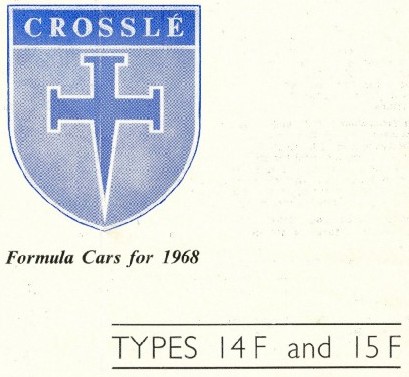 From the excellent Crossle booklet 30 Years of Winning: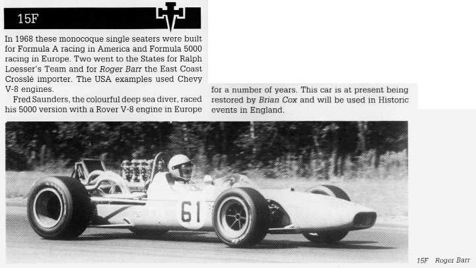 Car C15F6839
The initial 15F was delivered to Roger Barr, a 1968 SCCA Formula B champ and Crosslé dealer in the fall of 1968. Crosslé had hoped to capitalize on Roger's 1968 results with a 12F Formula B car.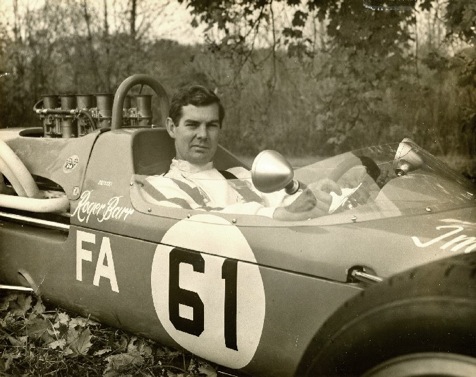 Roger ran the new 15F with his then-current number #61 in a few events in 1969. The effort was apparently under-funded, ran few events, and he did not meet with the same success as the previous year. The ever-present T140/2 Lolas, though no more sophisticated, had better teams and more development dollars and hence were the car to beat. By 1975 it cost upwards of $145,000 to run a F5000 season, so things were not going to be getting cheaper.
As further proof that old racers never slow down, Roger was recently a Senior Technical Assistant at Brown University, advising the Formula SAE program.
The following photographs show Roger's car with a Hartford Connecticut car parts sponsor (perhaps himself?). The original engine cover is now lost, according to a previous owner (Vic) as mostly due to the later addition of rear-facing rollhoop supports to meet SCCA requirements.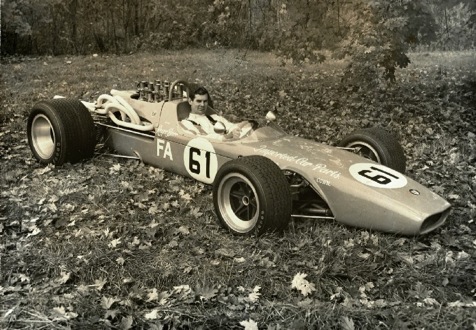 Mark Staunton sent this very nice photo he took at the NY Auto Show in 1969 with his instamatic: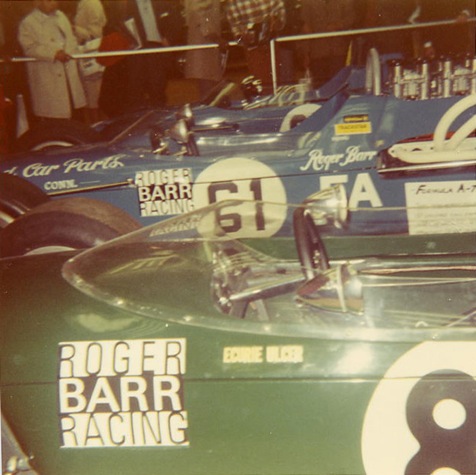 Note "Ecurie Ulcer" on the #8 car, perhaps a pun on "Ecurie Ulster".
Roger advertised the car for sale in Competition Press in 1969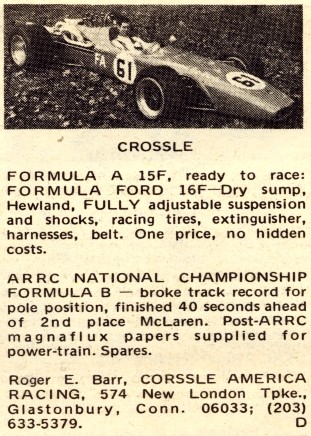 Roger eventually sold the car to Francis T. (Terry) Grant of Philadelphia, with the well-known Ray Heppenstall as Grant's mechanic. Ray wrote for Victory Lane and other publications and had a long and colorful career. Visit
http://www.racingarchives.org/transcripts/rayheppenstall.htm
for a fascinating interview with Ray. "Heppy" was the driving force behind the famous Howmet turbine car. A point of interest is that Grant and Heppenstall entered the 1970 Daytona 24 hour race in a GT40, which apparently expired with a head gasket failure during Grant's stint.
Ray wrenched two 15F cars, so somehow the two stateside cars came together into a single team effort. Ray stiffened both chassis in the pontoon area with expanding foam and made other slight modifications. According to Ray the car was still undeveloped, but is quite fast if one is willing to throw it into the corners. Terry was not particularly successful in the 15F either. It was outclassed by the newer purpose-built F5000s of McLaren, Lola, Surtees, and others.
Ray remarked in a phone conversation to me that a unique feature of this car is three separate chassis sections, such that if you destroy part of the car, hopefully the other two sections survive to race another day. Ray believed the cars were Ford powered at the time, but this is likely to be incorrect. Ray had a good relationship with John Crosslé, but Crosslé had no spare resources to further develop the chassis.
Ray in a driving role: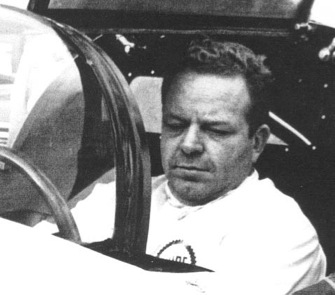 Francis then sold the two cars in late 1971 to Gene Stanton, a Pennsylvania Region racer, for about $8000... which was a deal, even then.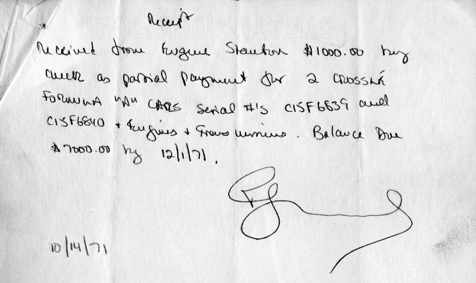 Here's a note from Ray Heppenstall to John Crossle, arranging for his shop credit to transfer to Gene.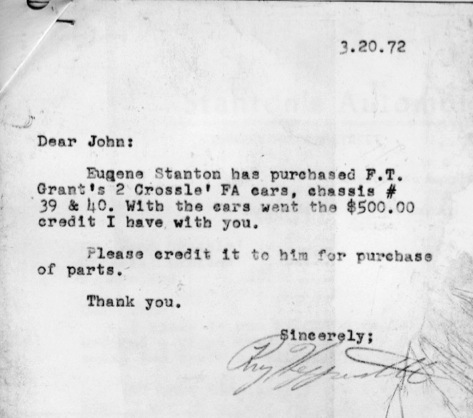 There's an entire story here with Gene negotiating new wheels and other stuff from John. I am guessing this letter is referencing the spare set of slightly wider wheels I have.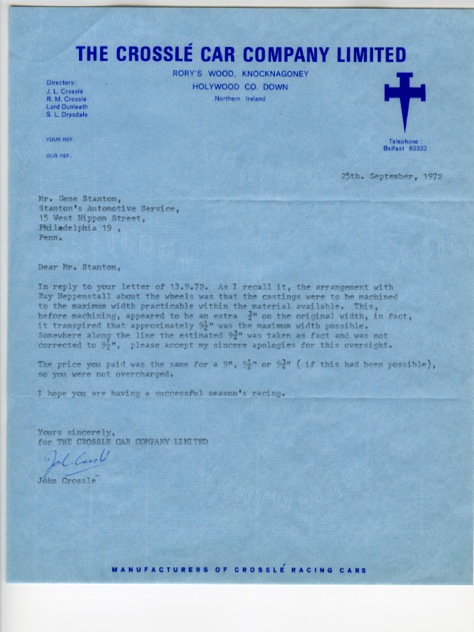 Gene immediately sold the first car to Vic, sans engine, for nearly what he paid for the pair (fair enough); according to Vic they ran together as friends, swapping bodywork depending on whether wings were desired or not. Gene was also known for his "Stanton Special" Can-Am car in the mid sixties, which I hear was being restored by the original sponsor/owner.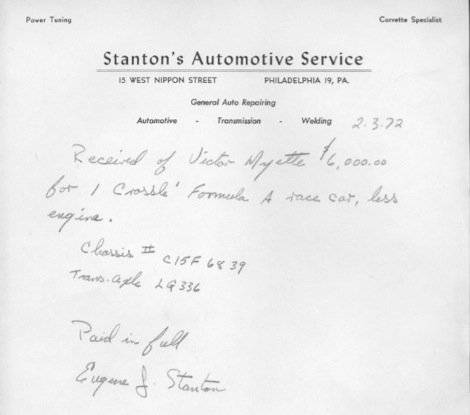 The following photo is of unknown date, during Vic's ownership, but shows the car without wings. The NACA duct was added by Roger Barr at Lime Rock (I can testify how hot it is without one).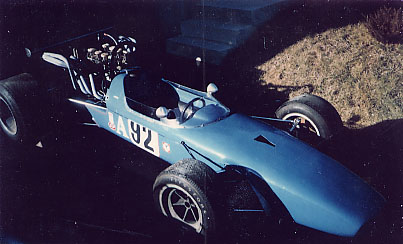 Below is Vic Myette's last livery in Formula A before the car was parked. Under the bodywork is additional baffling to direct hot radiator air away from the cockpit. Note the aluminum trim tabs in front of the front wheels, allegedly to clean up airflow and generate a negative pressure zone to aid in cooling (which I can also testify works very well). Barely visible in this photo, but still on the car's bodywork (2003), is an L&M Series sticker - possibly from Grant's 1970 Sebring outing.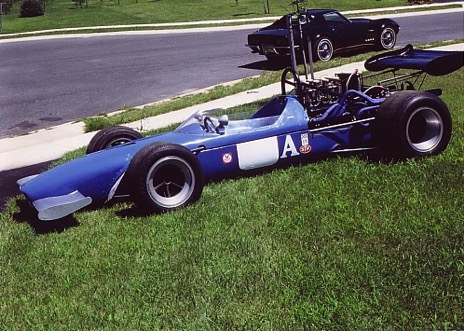 Known Race Results
Roger Barr - Lime Rock, 02 August 1969, finished 11th
Roger Barr - Brainerd, 10 August 1969, finished 16th
Roger Barr
-
Bryar Motorsports Park, 31 August 1969, finished 3rd
Terry Grant - Sebring, 25 October 1970, finished 22nd
Terry Grant - Road Atlanta, 29 November 1970, unknown
Terry Grant - Lime Rock, 6 September 1971, unknown
I purchased C15F6839 from Vic Myette in 2001, who had parked it in storage since around 1973. I restored and raced it for several happy years. In 2011 I sold the car to a local racing friend in Seattle, where it now resides. We hope to run C15F6839 and 40 together again this year. Below is a picture of the restored C15F6839 (#26) and unrestored C15F6840 (#98) around 2011.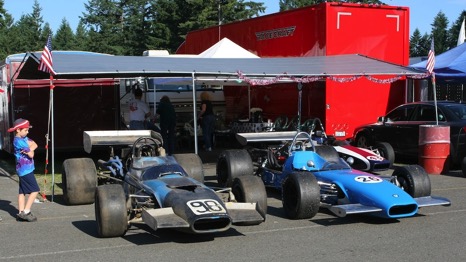 Car C15F6840
The second car was delivered to Ralph Loesser according to Crossle's
30 Years of Winning
. The "Loesser" spelling may be incorrect in the Crossle document, as a certain "Ralph Loeser" was a race mechanic/owner in the Limerock Park area during those years. Sadly, it appears he has passed away. Perhaps he was related to the Grant effort. A 15F was for sale in 1969 from "Rene Racing Developments". This is another area of research.
The car ended up into the hands of Gene Stanton - as mentioned above - and, remarkably, remained in his possession until his passing in 2003. It carries a chassis tag of C15F6840, which is sequential to the prototype C15F6839. There are very subtle details that differ between the first two cars, for example suspension pickup points and the front bulkhead area.
The caption on the back of the following photograph, supplied by Vic Myette, says "Cold day at Lime Rock Park, 1970". Note the SCCA double roll hoop which is different than C15F6839. The original hoop was very low. An interesting fact is that both cars have the identical SCCA number stamped on their rollbars. Could there have been some car swapping going on - with only one log book?
A very nice paint job, in any case.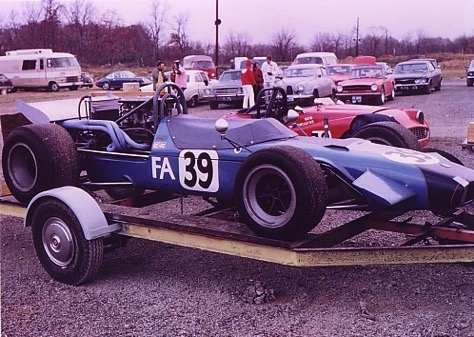 Here's another great picture of Gene in action, with a huge windscreen (he doubled up to make it higher to block more wind), stickers and such (note the L&M series). He would need the mirrors on pylons to see anything behind him. I would date the picture as 1973 or later.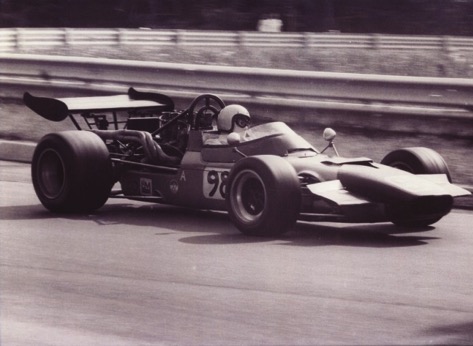 Bill Henry shared his collection of photos from his youth with Gene. These are priceless views of 4 September 1972, Lime Rock Park, Connecticut.
From Bill:
Gene with a particularity interesting headgear ensemble. The car hauler is to the right. This was a converted U-Haul truck used to move small trailers around, it had an angled bed. The hauler was repainted a dark blue similar to that of the "Stanton Special."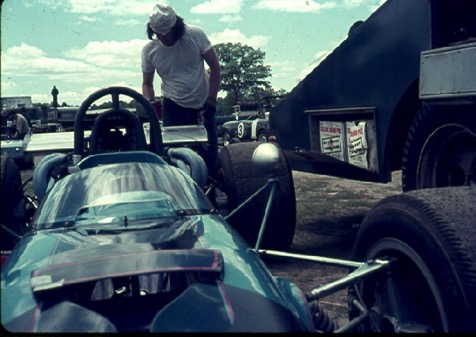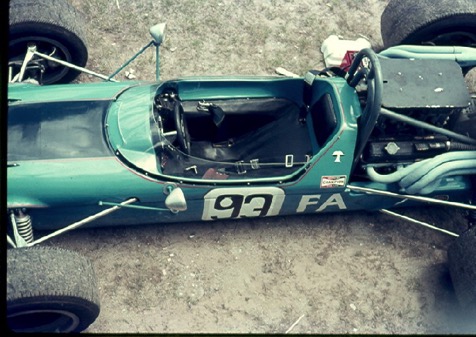 Bill continues:
Rear view, note that the oil catch can is different than that on Victor's car. As far as I can remember this was the original catch can that was with the car. I don't remember Gene replacing it. This car also had a double roll bar which I don't believe Victor's car had.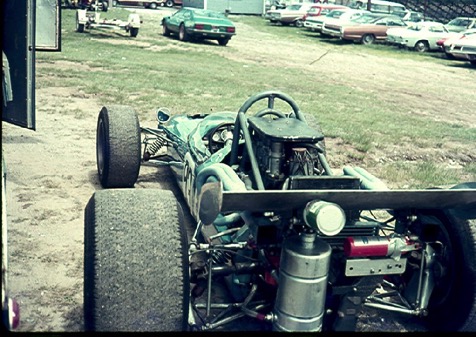 Bill:
Gene only managed to run in Heat 1 finishing 19th , the car retired with a suspension failure on lap 9. Car was unable to compete in the second heat and was classified as 19th overall based on aggregate time. The race was won by Brett Lunger in a Lola T300. Brian Redman was second in a Chervon B24. A number of well known drivers of the day also competed, this included Sam Posey, Eppie Wietzes, Skip Barber, Graham McRae, David Hobbs, George Follmer, and Lother Motschenbacher.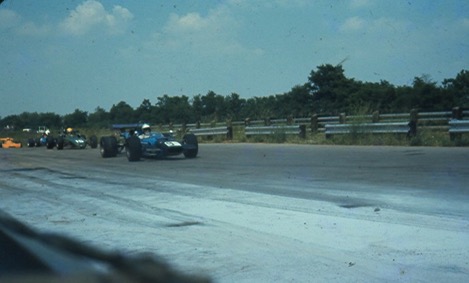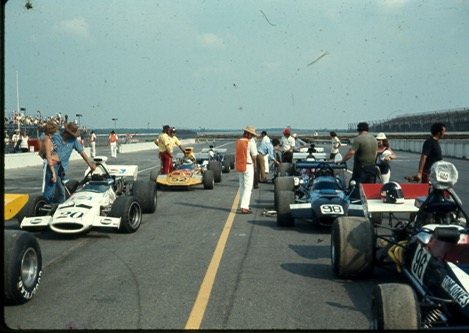 Bill:
Note the lower cockpit side wall which is prior to the body being altered later, in my opinion this was the better looking of the two variants. The small mushroom has to do with a girl friend of mine's younger sister who was particularity fascinated with an "ELF" t-shirt I had and somehow the "ELF" translated in elves and mushrooms and this was suppose to be lucky. Gene didn't blame the DNF on the mushroom. This photo also shows the car's color better than the other photos, especially the powder blue headers.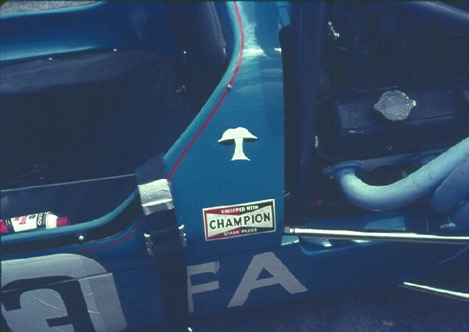 Here are two more photos, supplied by a past friend of Gene's. I'm not sure I would have followed the transporter very closely on the highway!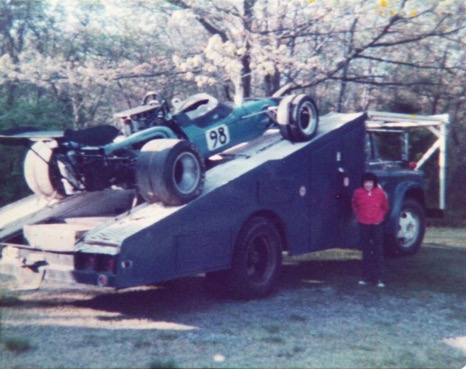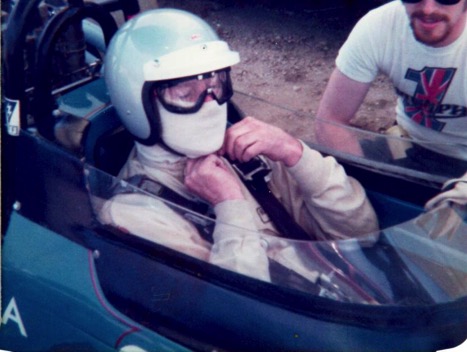 I'm certain Gene's life story would fill a book all on its own. He had a long and occasionally successful (in terms of performance, not cash) driving career.
Here is a nice story by a friend of Genes, also no longer with us.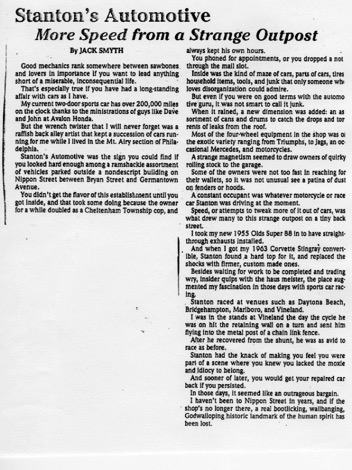 Here are a pair of views from June 1975. Look at the crowds!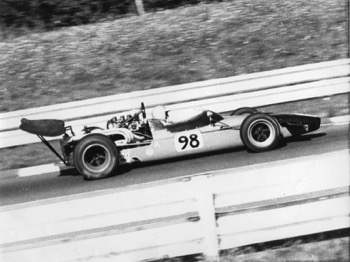 To achieve track records this late in the car's life is a testament to Ray's driving, especially in 1978 (and in a light snow, I have been told).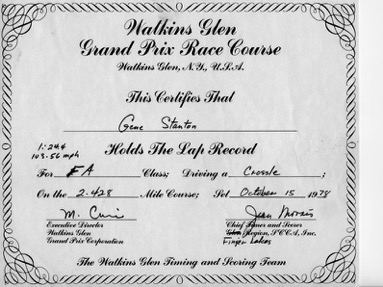 Apparently the fibreglas wings that came with both cars came from the famous Tony Kitchener, of Kitchener F5000 fame. One of them is back on Gene's car today.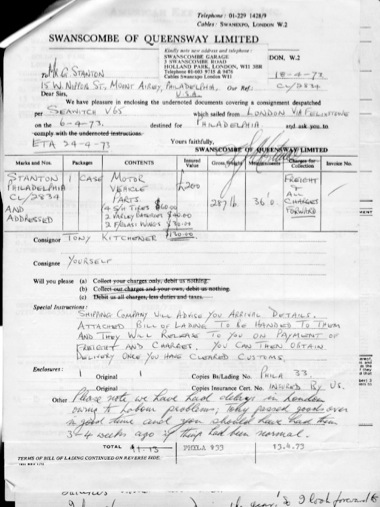 Here is a photo of the car as it was in 2004. The rear wing has a big Gurney flap and the endplates are different than above, but otherwise it looks like the previous photos.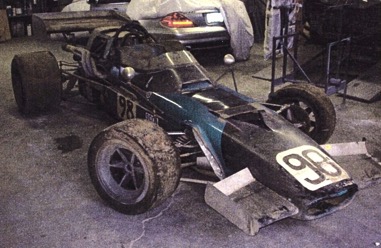 I purchased the car from Gene Stanton's estate in 2004 and finally completed restoration in 2014, just in time for the first Indy Brickyard Invitational.
Car C15F6942
(possibly C15F7004)
Perhaps the best known of the cars, the third car did not leave the Crosslé works until a year after the first two. Below is a feature from Autosport in October 1968 showing the incomplete 3rd car.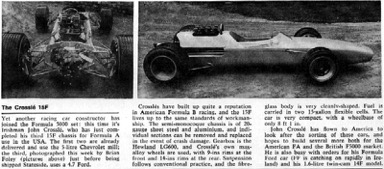 From the above caption and later history, it seems clear that plans for this car changed, perhaps the American customer changed his mind.
It was eventually purchased by a well known (in the UK) deep sea diver named Fred Saunders, who installed a Rover V-8 engine and competed in 35 European F5000 rounds between 1970 and 72. Even though this engine was down on power with respect to the Chevy 302s, he drove it well and achieved some success. The following picture is from early spring, 1970. Note the absence of wings.
This is a photo of Fred at Thruxton in 1970, having now sprouted wings and trim tabs.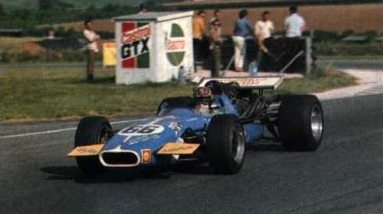 From a web page detailing these dangerous times:
Derrick Williams
Year of death: 1970
Age: 27
Notes: Driving in a tight pack of cars at the back of the field, Derrick Williams in his Lola T142 pushed his car too hard in the final turn before the start/finish straight and touched the Crosslé 15F - Rover of Fred Saunders. The Lola flew up in the air, smashed down on the asphalt, slid a distance upside-down and caught fire. Even though the BRSCC rescue car was only a few hundred metres away from the scene of the initial accident, the 27-year old Englishman could not be extricated from the flames. Even though the Crosslé lost a corner in the crash, Saunders was not injured.
According to the issue 7/1970 of the Swedish magazine life
Illustrerad Motorsport
there were indications that Williams was killed outright on impact; regardless of that, yet another life had been lost in the 1970 season, and the awful sight of a burning wreckage displayed right in front of the four thousand spectators located in the main grandstand were a stark reminder of the risksinvolving racing at that time.
The following photograph when viewed in the original form shows exquisite detail of the workings and a large Rover advert on the rear wing. The valve covers are Rover V-8 which probably conclusively identifies it as the third 15F.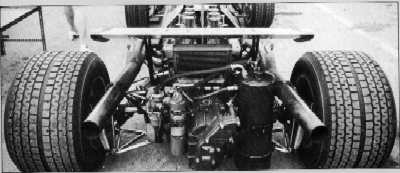 Fred, beyond the F5000 series, participated in a non-championship Formula One race. If the entrant list doesn't give you goosebumps - then you are on the wrong web page!
International Gold Cup
22 August 1970, Oulton Park, England, 2x20 laps
Lap Distance=2.76 miles. Race Distance=110.44 miles.
Qualifying
1 4 John Surtees Surtees-Cosworth TS7 1m36.2
2 5 Jack Oliver BRM P153 1m39.2
3 30 Frank Gardner Lola-Chevrolet T190 1m42.0
4 21 David Prophet McLaren-Chevrolet M10B 1m42.0
5 1 Jackie Stewart Tyrrell-Cosworth 001 1m43.8
6 77 Trevor Taylor Lola-Chevrolet T190 1m44.0
7 42 Graham McRae McLaren-Chevrolet M10B 1m45.2
8 41 Reine Wisell McLaren-Chevrolet M10B 1m45.4
9 12 Howden Ganley McLaren-Chevrolet M10B 1m46.8
10 2 Jochen Rindt Lotus-Cosworth 72 1m46.8
11 43 Mike Hailwood Lola-Chevrolet T190 1m50.0
12 3 Graham Hill Lotus-Cosworth 72 1m52.8
13 47 Tony Lanfranchi Lola-Chevrolet T190 1m53.4
14 66 Fred Saunders Crosslé-Rover 15F 1m54.2
15 23 John Myerscough Brabham-Oldsmobile BT11 1m56.6
16 88 Chris Summers Lola-Chevrolet T142 1m58.6
17 70 Allan Rollinson Surtees-Chevrolet TS5A 1m59.0
18 31 Lingard Goulding Beattie-Chevrolet P1100 1m59.8
19 98 Bob Miller Dulon-Ford LD8 2m02.8
20 10 Kaye Griffiths Lola-Chevrolet T142 2m04.4
21 63 Ray Calcutt Lola-Chevrolet T142 2m06.4
22 16 "Ippocastano" Cooper-Chevrolet 86B "F1C-2-69" 2m23.8
After two heats and many DNF/DNS, here's the aggregate results. Not bad for Fred!
Aggregate
1 John Surtees Surtees-Cosworth TS7 '01' 59m48.2, 110.8mph
2 Jochen Rindt Lotus-Cosworth 72 'R2' 59m51.6
3 Jack Oliver BRM P153 '04' 40 laps
4 Howden Ganley McLaren-Chevrolet M10B '400-05' 40 laps
5 Trevor Taylor Lola-Chevrolet T190 'F1/7' 38 laps
6 Fred Saunders Crosslé-Rover 15F '70-04' 36 laps
7 David Prophet McLaren-Chevrolet M10B '400-04' 36 laps
8 Kaye Griffiths Lola-Chevrolet T142 'SL-142-35' 36 laps
More Fred Saunders pictures
1970 Season wrap-up in Autosport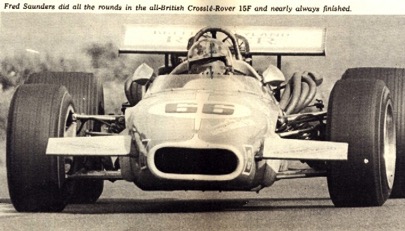 A Crossle ad from November, 1970:

Fred moved on and sold the Crossle, sometime around the beginning of 1971. I would be quite happy to pay him 3250 pounds sterling.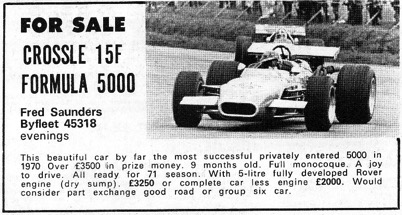 Apparently Fred still raced some portion of 1971 (this is at Snetterdon in 1971), but the Rover advert has been replaced by "London School of Flying".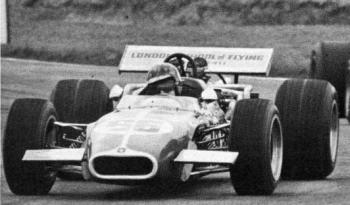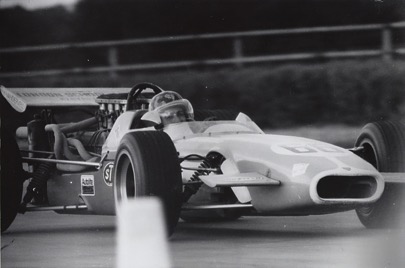 A very nice shot from Mallory Park. Believed to be taken by Peter Burns.
Eventually the car passed into the hands of Brian Cox, who raced it actively for some time and then advertised it for sale in early 1990.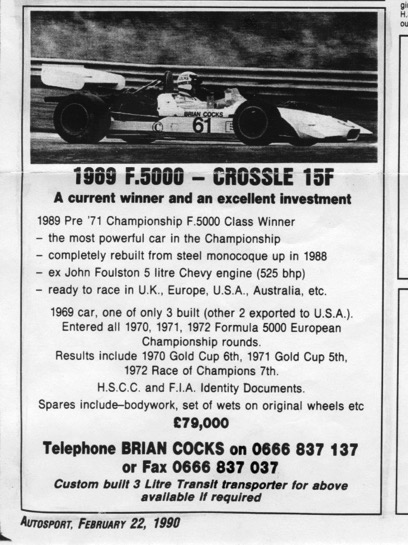 Eventually Frank Nowak obtained it and was very successful with it in Europe. Frank won races against the dominant marques of the time. Note the huge wings!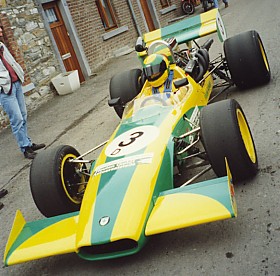 After Frank, Stefan Collosi campaigned it and beautifully restored it to Saunder's livery. I believe it is in Austria now.